Welcome to the most private place you listen to music… your car, truck, or SUV. Why not also make it the best sounding place we listen to music. Due to the significant advancements in technology, now more than ever, AMS can install the best sounding audio systems we've ever offered. Our Vendor partners are engineering these new best sounding products to require little or no change to the appearance of your vehicle. 
Our sales staff will help you design a great sounding system for any realistic budget. Our installation staff will carefully disassemble your vehicle, integrate all your new components, properly reassemble the vehicle, then program and tune the system for the best possible sound.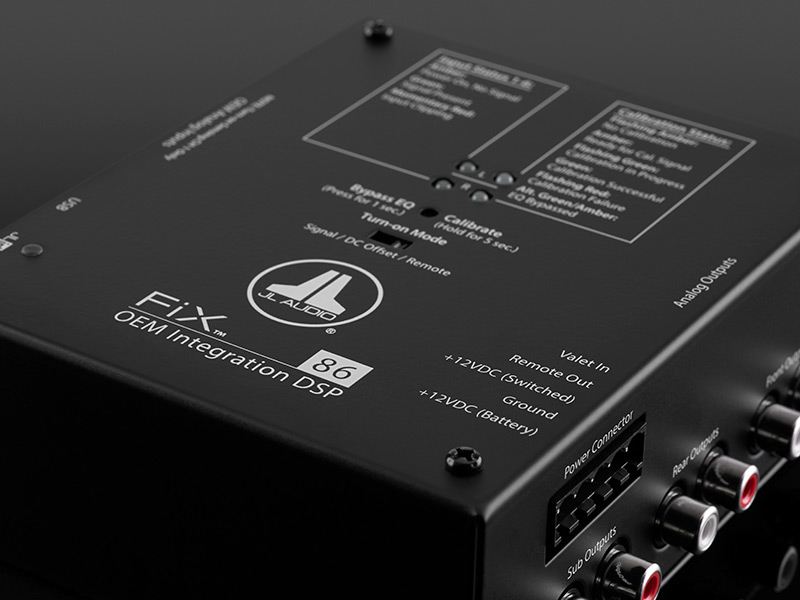 OEM Integration
If you are unable to install a new receiver in your vehicle, or simply do not want to, AMS has many options to upgrade speakers and/or add amplification to improve sound quality. Again, our Vendor Partners and the skill of our installation technicians means you can upgrade the sound in your car in ways you wouldn't have imagined. We have devices, some simple, some complex depending on the task, that allow us to provide a clear usable signal to build a great sounding system on. Whether we capture this signal before the factory amplifier, or restructure and "correct" it after the amplifier, these products exist so you can always have better sound.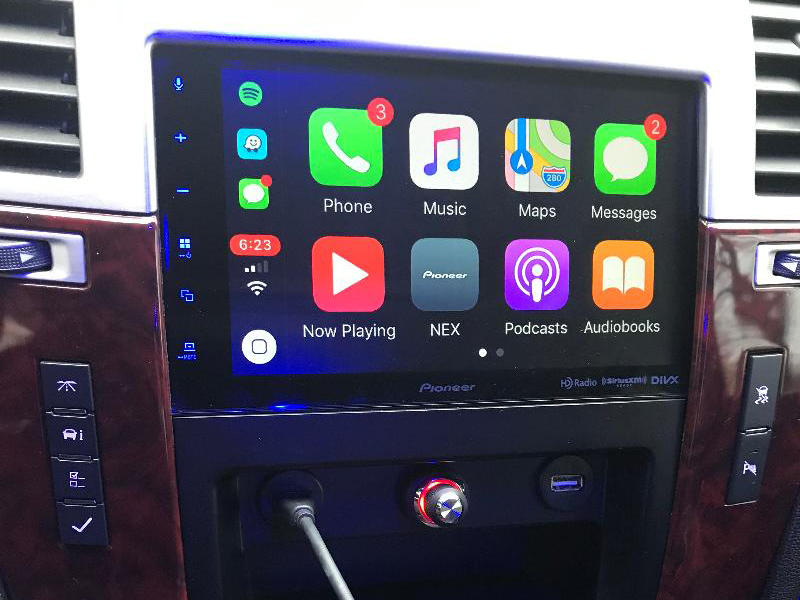 Head Unit Replacement
Replacing the indash receiver is the best way to get direct access to the cleanest audio signal. This also allows you to install the most current technology available for connectivity to your portable devices and music sources. AMS partners with the manufacturers that focus on the best sound quality, and we also partner with the manufacturers that build the best fitment and connection products.The result is a very finished look with retention of important OEM (Original Equipment Model) features like steering wheel controls and backup cameras. A new indash receiver is far less expensive than a new vehicle and can provide a highly compatible platform to upgrade your audio.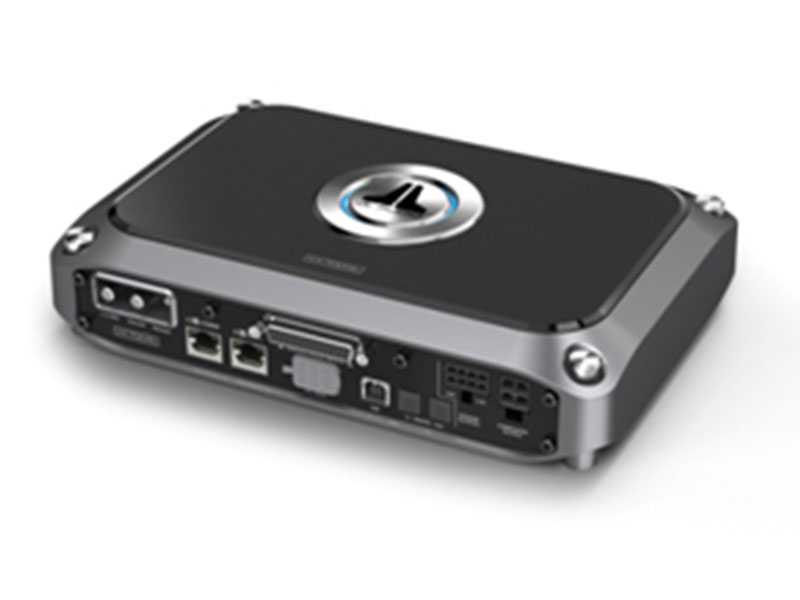 Amplification
Power… an important part of great sound. AMS recommends use of an external amplifier if great sound is what you want. The tiny components the amplifier in the head unit is comprised of create a resistance in the signal path that comes across as messiness in the sound. Larger full size transistors pass the signal without resistance revealing more details and layers of information from your speakers. Absolute sound quality or high output levels, or both, a powerful properly tuned amplifier is a must. AMS offers many different multi-channel amplifiers so you may power an entire system from a single amplifier, saving you money on wiring and labor.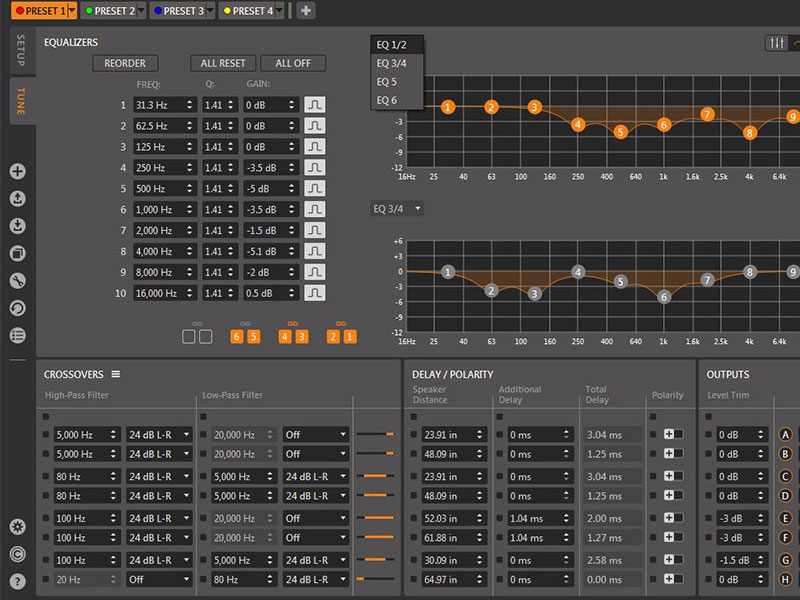 DSP or Digital Signal Processing
DSP takes your in-vehicle listening experience to a whole new level. Using a lap-top computer, DSP allows us to tune each individual speaker in your audio system to the bandwidth it plays, the level it plays, and the distance it is from you, all in a digital domain so as not to add any noise. Passive components like coils, capacitors, and resistors, are eliminated from the signal path between the amplifier and speaker resulting in stunning detail. Time alignment in the tuning software has the output of every speaker arriving at your ears at the exact same time. This provides a true Hi Fi three dimensional sound-stage from a two channel system. Because it is digital, different "profiles" can be set and stored for different applications relative to the number of listeners, type of music or level of output, even top up or top down in a convertible car. DSP can be purchased as an add-on processor, or now more affordable than ever is built into 8 different models of amplifier.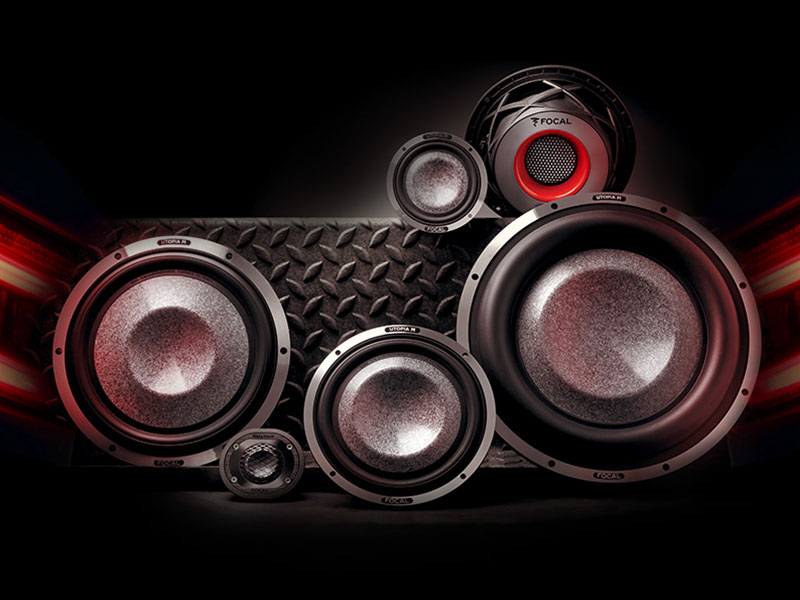 Speakers
Speakers will make the most difference of anything you can do to upgrade your sound quality. The front speakers are the most important speakers in the car given your listening position so make sure you get the best your budget will allow. The rear speakers are not nearly as important and are usually played at conversational levels when you have a car full. Using a quality separate component set in front places the mid-bass driver in the factory door position. You can place the high-frequency driver or tweeter up high so you can hear detail from both channels, and forward for a more natural time alignment. Rather than buying a car stereo, you are installing a great sounding stereo in your car, truck, or SUV.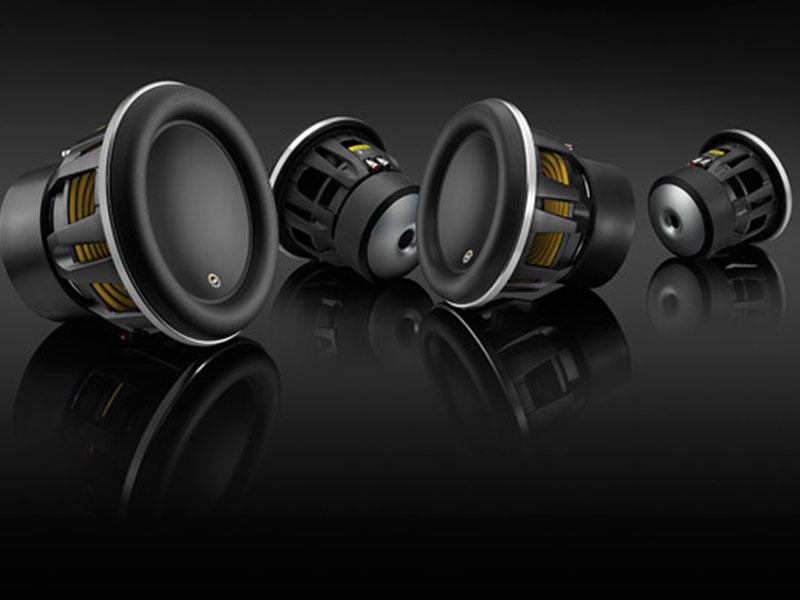 Subwoofers
Get one! Large or small, loud or not so loud, a subwoofer plays a very important role in sound quality. You simply cannot create the low frequency output a subwoofer provides with a conventionally installed full range speaker in a vehicle. You also have to overcome some level of noise from any vehicle, and a properly tuned subwoofer does this very well. JL Audio engineers over 100 Stealthbox vehicle-specific, pre-loaded enclosures that occupy very little or no useful space at all, so you don't lose functionality of your vehicle's interior. Technology and materials have shrunk the overall size of the subwoofer over the years so even a conventional enclosure is a real possibility in almost anything you drive.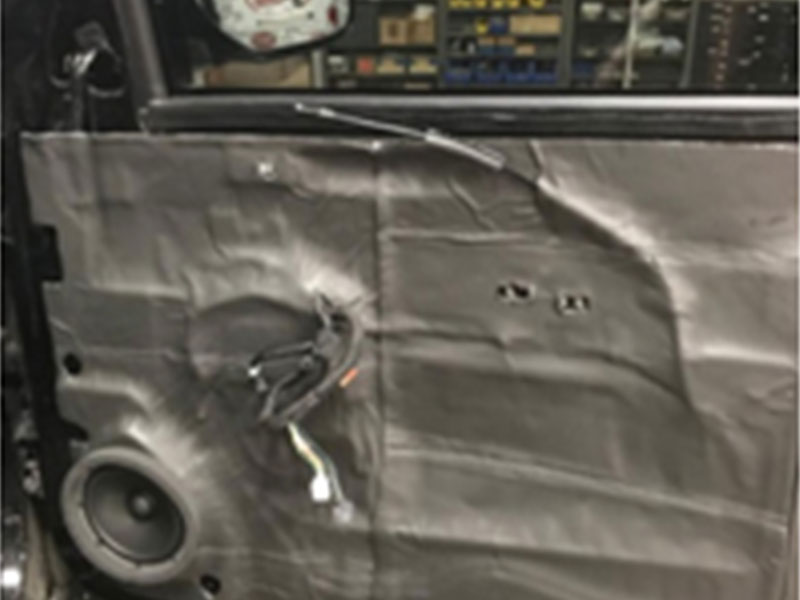 Sound Damping
The application of sound dampening material provides two distinct benefits. Using a foil backed sheet of thin, sticky, butyl based material, we coat the sheet metal surfaces of the interior of the doors, rear shelf, floor pan, even the roof sometimes. Doing this will render the sheet metal "inert" so the vibrating energy of the speakers does not transfer into the body of the vehicle and color the sound. The other benefit is a quieter vehicle as road noise does not transfer as readily to the interior cabin. We also have soft materials to prevent trim panels from rattling against the vehicle. Don't forget the sound damping!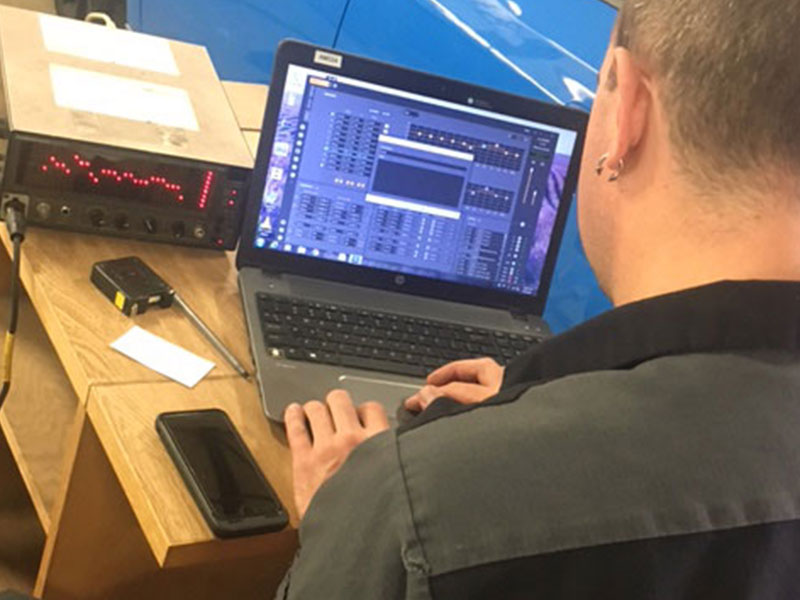 Installation
This could easily have been the first item listed because without excellent installation and tuning, everything listed before this may not come true at all. Every Audio system we install requires that we take the vehicle far enough apart to properly integrate each component and the related wiring. Then the vehicle must be put back together correctly creating a predictably reliable installation. Custom work is supported by creative fabrication of enclosures, trim panels, and brackets, using metal, wood, plastic, fiberglass, vinyl, and fabric materials. Upon completion of the installation, settings of the controls on amplifiers and signal processors must be set with precision to get the best possible sound. Our staff has the knowledge, the experience, and the tools to make sure your purchase is installed and tuned properly every time. 
Classics
More than ever, people want to include a nice sound system in their classic vehicles. Using all the resources we have at AMS, we are often able to do exactly that without ruining the appearance or the spirit of the car and its place in time. From retrofit classic radios made to fit the original openings in the dash, to hidden Bluetooth receivers and custom installed speakers, you can enjoy your favorite music wherever cruising might take you. If you're restoring a classic or have a favorite in the family, swing it by the store on a nice weather day and we can check out the possibilities for yours.