Remote Start and Security
Remote Starter: Why do I need one? Well, because you live in Wisconsin! Sure, your home and place of work is heated. The store or restaurant you're headed to is heated like most anyplace you go. Problem is, you have to jump in a freezing cold vehicle to get there. After several times a day for 5 or months of the year, you get sick of your teeth chattering just to get groceries or go to work. A remote starter takes the edge off the Wisconsin winter like nothing else can. Climbing into a comfortable vehicle all winter long, or on the hottest most humid days of summer is an amazing feeling. Our customers say it best. "Why did I wait so long?", and "I'll never be without a remote starter again!"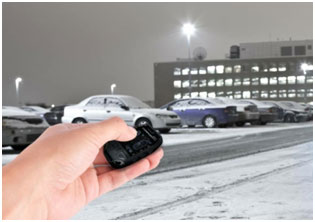 Understanding your vehicle:
Knowing how your car is started, controlled, and secured will help you understand why it is important to have a quality product professionally installed. Most of the vehicles on the road today have some form of anti-theft technology in the key, and/or ignition. 
The most common practice is placing a transponder or "chip" in the key. This is similar to "chipping a pet" in that the chip is not powered or active but contains all the information about the pet. In the event the pet need be identified, the information is read by an active device. With a chip in the key, an active antenna in the vehicle must read the chip as the one and only key for that car or it will not start. In order to start the car without the key, we must install an additional device or "bypass module" that effectively satisfies the vehicles need to recognize the chip so the vehicle will start and run. The bypass module does not compromise the security of your vehicle as it is only active during remote start and runtime. Should someone force their way into your vehicle, there is no key and as soon as they touch the brake to put it in gear, it will shut down. This is the only safe way to warm up or cool off your vehicle.
Most of the vehicles on the road today are controlled digitally using different types of firmware based on the brand or generation of the vehicle. Cranking the starter, turning lights on or off, locking doors, arming security, almost any command in today's vehicles is done over a multiplexed network. The anti-theft "bypass module" also has the needed firmware to communicate on the vehicles network, effectively converting the command of the remote starter into a digital "language" your vehicle understands. Any corrupt information on this network can cause problems with the operation of your vehicle. That is why it is critical you purchase quality components and have them professionally installed by a skilled technician.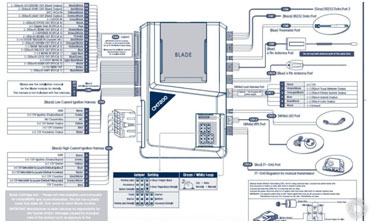 Range:
Range is a determining factor in how useful your remote starter really is. Overall price goes up with longer range, but it's worth it depending on your lifestyle. If you are a first time buyer, or you've had a limited range product, consider your potential use. Most of us could use a half-mile range so on the worst days we can start the vehicle from indoors at work, home, shopping, out to eat, maybe even at church. Longer range may be required for different reasons, and virtually unlimited range comes from a Smart Phone interface, given there is adequate cell service where being used. Do you park in a large concrete ramp? Do you travel in and out of the airport often? Are you a season ticket holder for winter sports and park a 15 minute walk away? Maybe you want to start your car at the Park-and-Ride lot during your bus ride there. Longer range means more opportunity to take advantage of the comfort your remote starter provides. Also, clearer windows inside and out provides for safer winter driving. Get the range you can use. 
Features and add-ons:
A one-way remote starter means your remote control sends a signal one way from remote to vehicle. With a good long range product, you will get a feel for how confident you are the vehicle started.
With a two-way remote, you receive a signal from the vehicle back to the remote confirming that the vehicle started and that it's running. This is our most popular feature. With a two-way system you also know if you've locked or unlocked the vehicle or opened the trunk or tailgate depending how the vehicle is equipped. With a two-way LCD remote, you get confirmation visually as well as audibly. You can use the LCD display to check the status of your vehicle including interior temperature and battery voltage on some models. Many of the two-way systems can alert you through the remote if your vehicle alarm has gone off. Of course you have to be in range. Almost all of our remote starters can be upgraded to include security for $100.00. Our top LCD remote controls even allow the engagement of a temperature based timer. Any of you have to leave your vehicles outdoors overnight? Set the timer before you go to bed and should it get cold enough, your vehicle will start itself and run for a pre-determined period, shut off, and wait a predetermined period before checking temperature again. After a 25 below zero night, your vehicle will start like it's a spring day in the morning!
Drone Mobile:
Sold mostly as a Smart Phone interface for remote start, Drone Mobile can also be sold as a stand-alone GPS tracking device, or both, depending on how you use it and what level of service plan you choose.
As a remote starter, you are capable of virtually unlimited range given there is cell service, and it is a true two-way device supporting commands with confirmation, visual and audible status of the vehicle and it's location, and security alerts with tracking should your vehicle be taken without consent. You do not have to carry an additional remote, and many of today's push-button starting cars can be programmed to start from the original Fob for close range convenience. Use the Smart Phone when distance becomes greater. More than one phone can be registered to your account, so when a family member locks their phone and keys in the car, another can unlock the car from their phone to save the day from almost anywhere. Drone Mobile is perfect for large parking structures and medical facilities where electronic interference might cause conventional remotes to fail. Drone Mobile is so much more than a remote starter. Check out Drone Mobile Service Plans for all the possibilities.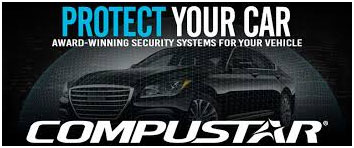 Security:
Compustar is best known for Remote Starters yet quality Security Systems with all the important features are available as well. Sold as a stand-alone system, or added to a remote starter, Compustar security systems are available with a wide range of control including Smart Phone or one and two-way remotes. These security systems include alarm siren, theft deterrent LED, 4 in 1 security sensor to detect glass breakage, impact, tilt, and forward motion. and ELOCK Starter-Kill relay. Combined with available back-up battery and two-way alarm alerts and tracking with Drone Mobile, it doesn't get much more secure.